VOY: Message in a Bottle
Your mindset determines your thoughts, which then determine your actions. Just ask The Doctor!
3 months ago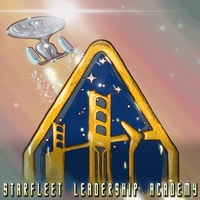 On this episode, Jeff Akin reviews Star Trek Voyager, Message in a Bottle (Season 4, Episode 14). He will examine the leadership lessons from The Doctor.
Mindsets determine how you see the world around you. Your mindset directly influences your thoughts, and your thoughts determine your actions. The Doctor, as he works with the EMH Mark 2, gives us the opportunity to talk about 4 different mindsets:
Abundance vs Scarcity
Intentional vs Victim
Authentic vs Image
Unity vs Detached
In choosing positive and productive mindsets, you can, and will accomplish amazing things, just like the two Emergency Medical Holograms do.
Have you gotten your free Starfleet Leadership Academy Performance Evaluation? Click HERE to join our mailing list and get your free, fillable copy based on our DIS: Choose Your Pain episode.
Follow the Academy and connect through: Website: https://jeffakin.com
Twitter: https://twitter.com/SFLApodcast
Instagram: https://www.instagram.com/jefftakin/
Facebook: https://facebook.com/groups/sflapodcast/
YouTube: https://www.youtube.com/channel/UCebdT7xtm2237q0f857BBuw
Find and follow Starfleet Leadership Academy on all your favorite podcast streaming platforms!
Got friends who are fans of Star Trek or interested in topics on leadership? Don't forget to share the podcast!
Support the Starfleet Leadership Academy Podcast on: https://patreon.com/sfla
And if you visit the episode page at https://www.jeffakin.com, you'll find a transcript of this episode.